Cottone Auctions is hosting its Antiques Auction on May 8th & 9th, 2015.
Selling on Friday, May 8th at 12:00pm will be Jewelry/Coins, Dolls/Toys/Banks, Collectibles, Slot Machines, Gum Ball Machines, Music Boxes/Phonographs, Clocks/Watches, Military/Civil War & Train Collection.
Selling on Saturday, May 9th at 11:00am will be Artglass/Pottery, Paintings/Prints, Lamps, Asian Art, Furniture, Silver, Sculptures, Decorative & Americana.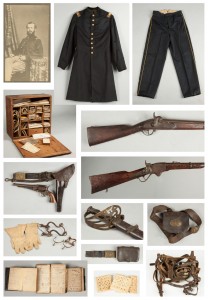 One highlight of the auction includes a full lot of items descended in the family of Watson W. Bush (1841-1927) of Rushford, NY, Allegany County. A Civil War Captain of CO B 2ND NY MOUNTED RIFLES, Bush was a prisoner of war who was captured September 30, 1864 at Peebles Farm, VA.  He was held in the Rebel Military prison in Danville, VA., paroled from Libby, and exchanged March 10, 1865. He is buried in White Cemetery, Rushford, NY. Bush was married to Weltha Jane Bush. For more information about Captain Bush, see our website.