Here at Cottone Auctions we have some exciting lots from Buffalo, New York coming up in our Fine Art & Antiques Auctions on February 20th & 21st, 2015. Cottone Auctions is Buffalo New York's leading expert on assessments of fine arts and rare antiques. Contact us today to get your complimentary antique assessment.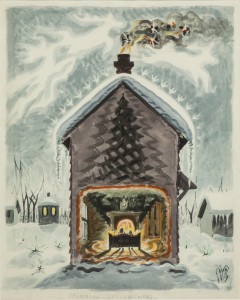 Charles E. Burchfield (American, 1893-1967) a lovely 30 inch by 22 inch watercolor titled Dreaming of Christmas. The work, monogrammed lower right and artist-titled in pencil, is expected to hit $75,000-$100,000. Burchfield lived and worked in both Ohio and New York. His passionate and visionary landscapes influenced succeeding generations of artists.
Titled in pencil, center. Watercolor. Exhibited: Vixseboxse Art Galleries, Inc. Cleveland Artists Foundation: Watercolor Painters of Northeast Ohio; The Beck Center for the Arts; Southern Ohio Museum; The Rife Gallery. Condition Excellent. Provenance Kennedy Galleries, "Messages from the Interior", Spring 1997, No. 3. A Private Collection. Charles Ephraim Burchfield (1893-1967) was an American painter, best known for his watercolor landscapes. In 1921, Burchfield moved to Buffalo, New York, to work as a designer for the prominent wallpaper company, M.H. Birge & Sons Company. The next year he married Bertha Kenreich, with whom he raised five children. Fascinated by Buffalo's streets, harbor, railroad yards, and surrounding countryside, he adopted a more realistic artistic style. Burchfield's foray into realism lasted for several years (courtesy of Burchfield Penney Art Center at SUNY Buffalo State).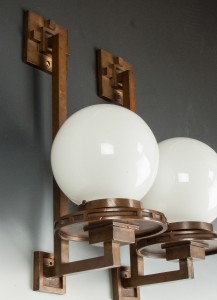 Frank Lloyd Wright (American, 1867-1959) Pair of Rare Wall Sconces
standing at 16″ high are estimated to sell around $7,000-$10,000. The sconces are of Frank Lloyd Wright's Darwin Martin House located in Buffalo, New York – a city of recognized architectural treasures. The Darwin Martin House is a representation of a world-class master-piece.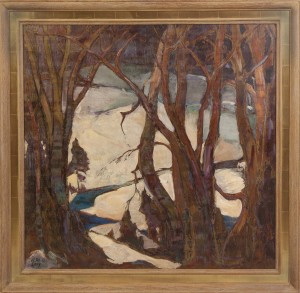 Alexander Oscar Levy  (New York, 1881-1947) "Winter Twilight #19", a beautiful work standing at 38″ x 40″ is estimated to sell at $8,000-$12,000. Alexander Oscar Levy (1881-1947) was a painter, illustrator, printmaker, and designer. He was one of the few American painters who worked primarily in the Art Deco style. Outside of a short sojourn in New York City, he spent his entire career in Buffalo, New York. Levy served as president of the Buffalo Society of Artists from 1933 to 1936. In 1975, the United States government selected one of Levy's 1930s paintings, Negro Spiritual, to be part of a traveling bicentennial exhibition of American art. The next year, 1976, the Everson Museum of Art in Syracuse, New York, held an exhibit of Levy's work mainly from the 1930s. In 1982, Dana Tillou Fine Arts of Buffalo held an exhibition of Levy's paintings and works on paper, and in 2014 the Burchfield Penney Art Center instigated a deep exploration of Levy and Buffalo in the Art Deco period.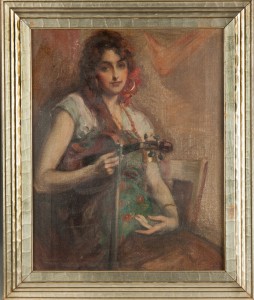 Alexander Oscar Levy  (New York, 1881-1947) "Gypsy Girl with Violin"
20″ x 16″, Est. $1,500-$2,500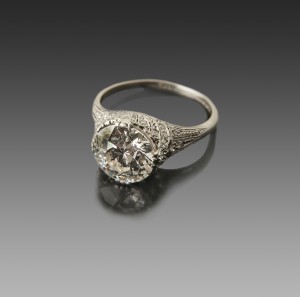 This gorgeous 3.16 Carat Diamond & Platinum Ring, selling on Friday, February 20th, is expected to sell at $20,000-$30,000. It descended in the Schreiber Family Buffalo New York, Founders of Schreiber Brewing Co., Buffalo, NY. In 1899 Anthony Schreiber opened the Schreiber Brewing Company on Fillmore Avenue, hailed at the time as the most modern in the city. Anthony Schreiber was a Polish immigrant. During Prohibition, he stayed open by manufacturing other products such as Manru coffee (history courtesy BuffaloAH). The Schreiber Brewery operated from 1899 to 1950.
For the complete catalog listing for the Fine Art & Antiques Auction on February 20th & 21st, 2015, please visit our website at www.cottoneauctions.com
Follow Cottone Auctions!
Facebook: www.facebook.com/cottoneauctions
Twitter: www.twitter.com/cottoneauctions
Google+: www.plus.google.com/+cottoneauctionsgeneseo
Instagram: @cottoneauctions
Pinterest: www.pinterest.com/cottoneauction