2015 was an excellent year here at Cottone Auctions. Our highlighting categories include Asian Art, 20th Century Design, Paintings & Prints, Lamp, Art Glass & Pottery, Silver, Sculpture & Decorative, Clocks & Timepieces, Military & Native American, Oriental Rugs, Americana & Furnishings & much more.
A highlight from the Asian Art category features 3 Japanese & Chinese Painted Scrolls, 2 signed by Chang Wen Jun (B. 1918). The scrolls sold in the September 25th Fine Art & Antique Auction 2015. They sold for $80,500.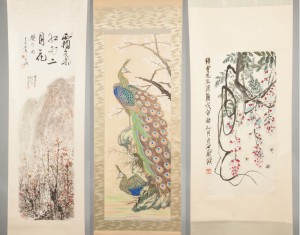 The 20th Century category continues to gain popularity. A George Warren Rickey (American, 1907-2002) Three M's and one W II Gyratory Kinetic Sculpture brought $115,000 in the February Fine Art & Antiques Auction 2015. It stood at an impressive 8′ 9″ tall.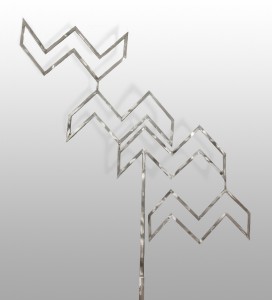 The Lamp, Art Glass & Pottery category highlight features a Rare Tiffany Studios Table Lamp with Turtleback Counter Balance with the original shade in excellent condition and original patinaed base. It sold for $44,850 in the September 26th Fine Art & Antique Auction.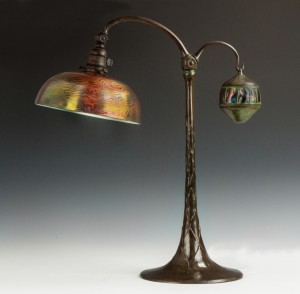 A lovely Sevres Cobalt & Gold Enameled Tureen from the 'Service Iconographique Grec' (C. 1812) sold at the February 21st Fine Art & Antique Auction. With an outstanding provenance, descending in the family of William Weightman for over 100 years, the price soared to $59,800, well above the estimated price.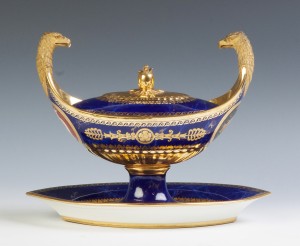 A Fine & Rare Room Size Serapi (19th century) sold at the September 25th Fine Art & Antique Auction for an impressive $32,200. It had nice even pile with no restorations.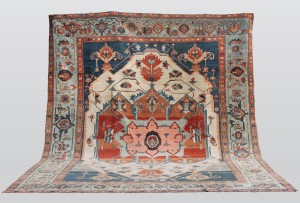 A stunning Paul Delamain (French, 1821-1882) titled "Arabian Salute", sold in the September 26th Fine Art & Antique Auction. The oil on canvas was signed in the lower left "Paul Delamain", "1880". It is original, untouched condition, selling for $44,850.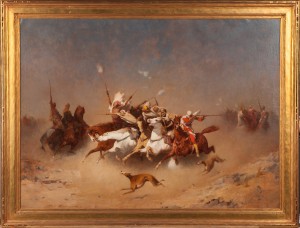 An 18th century Virginia Queen Anne Tray Top Tea Table stunned the audience when it managed to capture $299,000 in the February 21st Fine Art & Antique Auction. It was mahogany with a scalloped skirt and pad feet. It came from the Ex. Collection of Walter Vogel, Rochester NY.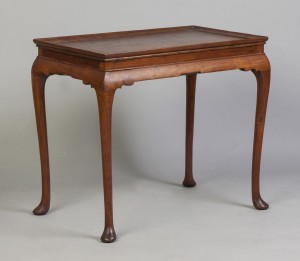 An outstanding Fine & Rare Asa Munger Stovepipe Shelf Clock, Auburn, NY from the Ex. Peter Zaharis Collection. Dr Warren Hammerschlag, from New Jersey sold on September 26th in the Fine Art & Antiques Auction. It's stenciled & painted tapered stovepipe metal pillars with fold leafed and stenciled fruit compotes & foliage impressed viewers bringing $39,100.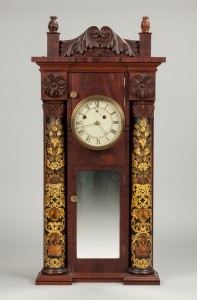 A particularly interesting group of Civil War items descended from Captain Watson W. Bush (1841-1927) of Rushford, NY, Allegany County. He was a civil war captain of the Company B 2nd NY Mounted Rifles. The items in the collection included his union frock coat & pants, a period photograph of him in his uniform, a Remington & Sons Pistol with the original holster, belt & eagle buckle, a Spencer Repeating Rifle Co., Boston, MA Carbine, along with various letters, books and diaries written by Watson. The collection sold for $34,500 in the May 8th Military & Native American Auction.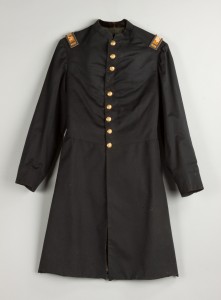 A Rare Marklin Hand Painted Tin Clockwork New York Battleship (C. 1900) soared in the November 13th Art & Antique Auction. It had all original paint and came from a Rochester, NY Family. It sold for $55,200.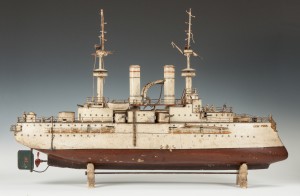 Cottone Auctions is Rochester, Buffalo & Syracuse NY's leading expert on assessments of fine arts and rare antiques. We are actively seeking fine art & antique consignments in the Rochester, Syracuse and Buffalo areas; we also accept consignments nationwide. We also give generous cash advances. If you have an antique or collectible that you're considering selling, please contact us to learn how we can help. Call: 585-243-1000, email: [email protected] or submit your photos through the Appraisal or Consignment section of the website. We are located at 120 Court St in Geneseo NY.