Here at Cottone Auctions, we are tying up odds and ends from our last two antique auctions, but are getting excited for our Upcoming Winter Fine Art & Antiques Auction. Matt and Sam have begun to make their rounds, collecting many fascinating and quality antiques. We have so many spectacular antiques already, but are always seeking quality antique consignments. In this upcoming sale we have 20th Century Design, Americana, Asian Art, Furniture, Lamps, Art Glass, Pottery, Oriental Rugs, Paintings & Prints, Silver, Sculptures & many Decorative items categories.
We have great highlights for our Upcoming Winter Auction already. For example, in our 20th Century Design category, we have an Albert Paley (B. 1944) Metal Sculpture (on the left), estimated at $10,000-$15,000.

We have very exciting category featuring several items from a descendant of the family of Ulysses S. Grant, including a toy, china, a cut crystal seal and other various items. Featured below a Rare Ives Clockwork Toy of President Ulysses S. Grant, estimated at $8,000-$12,000.

Our Paintings category features an incredible painting by Charles E. Burchfield (American, 1893-1967) "Dreaming of Christmas" (left), estimated at $75,000-$100,000.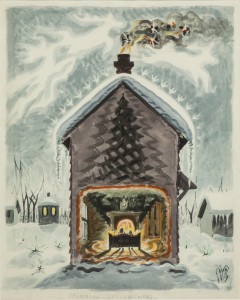 From our Lamps, Art Glass and Pottery category we have many brilliant examples. For instance, this Fine Acid Cut Back Steuben Plum Jade Vase, estimated at $2,000-$3,000.

Stay tuned for more fantastic antiques to be featured in our Upcoming Winter Fine Art & Antiques Auction. If you have similar antiques you are thinking of consigning, please contact us at 585-243-1000, email at [email protected], or visit our website at www.cottoneauctions.com
Follow Cottone Auctions!
Facebook: www.facebook.com/cottoneauctions
Twitter: www.twitter.com/cottoneauctions
Google+: www.plus.google.com/+cottoneauctionsgeneseo
Instagram: @cottoneauctions
Pinterest: www.pinterest.com/cottoneauction